FMA Birthday Parties

FMA offers Martial Arts Birthday Parties in the studio year-round. If your student would like to host a Birthday Party at FMA, please see FMA Management to schedule it and work out any specific details you may require.
The FMA Chief Instructor will provide a fun, educational and inspirational training session specifically designed for your student and their friends.
How Many Friends Can I Invite? Students may invite up to 12 friends. Parents are welcome to coffee and tea.
FMA will provide the following:
– 45 Minute Taekwondo & Weapons Training Class
– 45 Minute FMA Ninja Warrior Obstacle Course
– 1 Birthday Cake with Candles (Korean Flag or FMA Logo Design)
– Ice Cream Cups (Vanilla & Chocolate)
– Bottled Water
– Thank You Gift (FMA Ninja Headband for each of the kids)
Cost: $275
Optional
FMA can provide pizza, snacks, balloons and decorations at an additional cost, OR, you may choose to bring your own.
Scheduling: FMA Birthday Parties may be scheduled on weekends, either Friday night, Saturday or Sunday or weekdays during school vacations Monday thru Friday, but not during regular FMA Class times. Contact Us For More Info or to Schedule.
Party Types
FMA Birthday Cake Options (Included)

FMA Provided Balloons (Optional)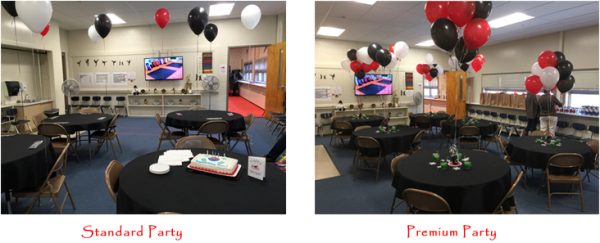 15 Balloons: Add $32
30 Balloons: Add $64