Matthew Spang, Chief Instructor – 5th Degree Black Belt
FMA Chief Instructor, Matt Spang can be found teaching most every FMA class and event, assisted by our Instructors, Assistant Instructors and our Leadership Students. Mr. Spang has earned a stellar reputation not only as a high ranking martial artist among his peers, but also as a wonderful, caring and dynamic instructor of martial arts for kids and adults alike.
Having studied and competed nationally for over 10 years, Mr. Spang brings vast experience to our Traditional Taekwondo training. In addition to his skills, his personal demeanor and zany antics make for a fun training environment for even the shyest child, often breaking through any trepidation quickly and earning their trust, making our studio a fun and safe place to learn.
What Mr. Spang does best is teach children how to improve their overall fitness, master Taekwondo, overcome obstacles, set and achieve personal goals, and inspire others.
Experience
Falmouth Martial Arts (FMA) Taekwondo for Kids & Adults
Study: Advanced Taekwondo Training & Instruction
Studio: Falmouth Martial Arts (FMA)
Period: 2014 – Current
Rank: 5th Degree Black Belt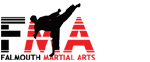 Previous Experience
Southern Maine ATA Karate for Kids (American Taekwondo Association (ATA)
Sanctioned: American Taekwondo Association (ATA)
Period: 2007 – 2014
Rank: 4th Degree Black Belt

Recognition
Title Event(s)
State Champion: Sparring, Extreme Forms
State Champion: Sparring, Traditional Forms
State Champion: Forms (Traditional, Creative, Extreme), Weapons (Traditional, Creative, Extreme, Combat)
Championships
American Taekwondo Association (ATA) 2012 World Championship
8th Place Overall: Creative Forms
10th Place Overall: Extreme Forms

Martial Arts Awards of Note 
Special Merit Award for Dedication to Excellence in Instruction